But within seconds of walking into the four-bedroom Hemmel style property Gemma knew it was the perfect property for them.
Gemma, 35, says: "I thought there's nothing else I want! It blew me away."
The Hemmel has a spacious kitchen and dining area with bi-fold doors leading out into the garden and a living area with floor to ceiling windows at either end. Upstairs are four bedrooms, two with en-suite – and the main with walk-in dressing area too – and a family bathroom.
With the help of Kingswood's industry-leading 'Shape Your Home' concept, Gemma chose not to have a wall between the kitchen/diner and the lounge room, creating a huge open plan area.
"All Kingswood's homes are beautiful but this one had to be mine. I'd looked at a few new-build homes and some seemed really boxy and enclosed. With Kingswood, and my home especially, I just love the feeling of space and all the natural light," Gemma says.
"I love the indoor-outdoor living, and that I can open the bi-fold doors and go out into the garden. I have a South-facing garden too, so I have the sun all day at the back.  It really is just perfect."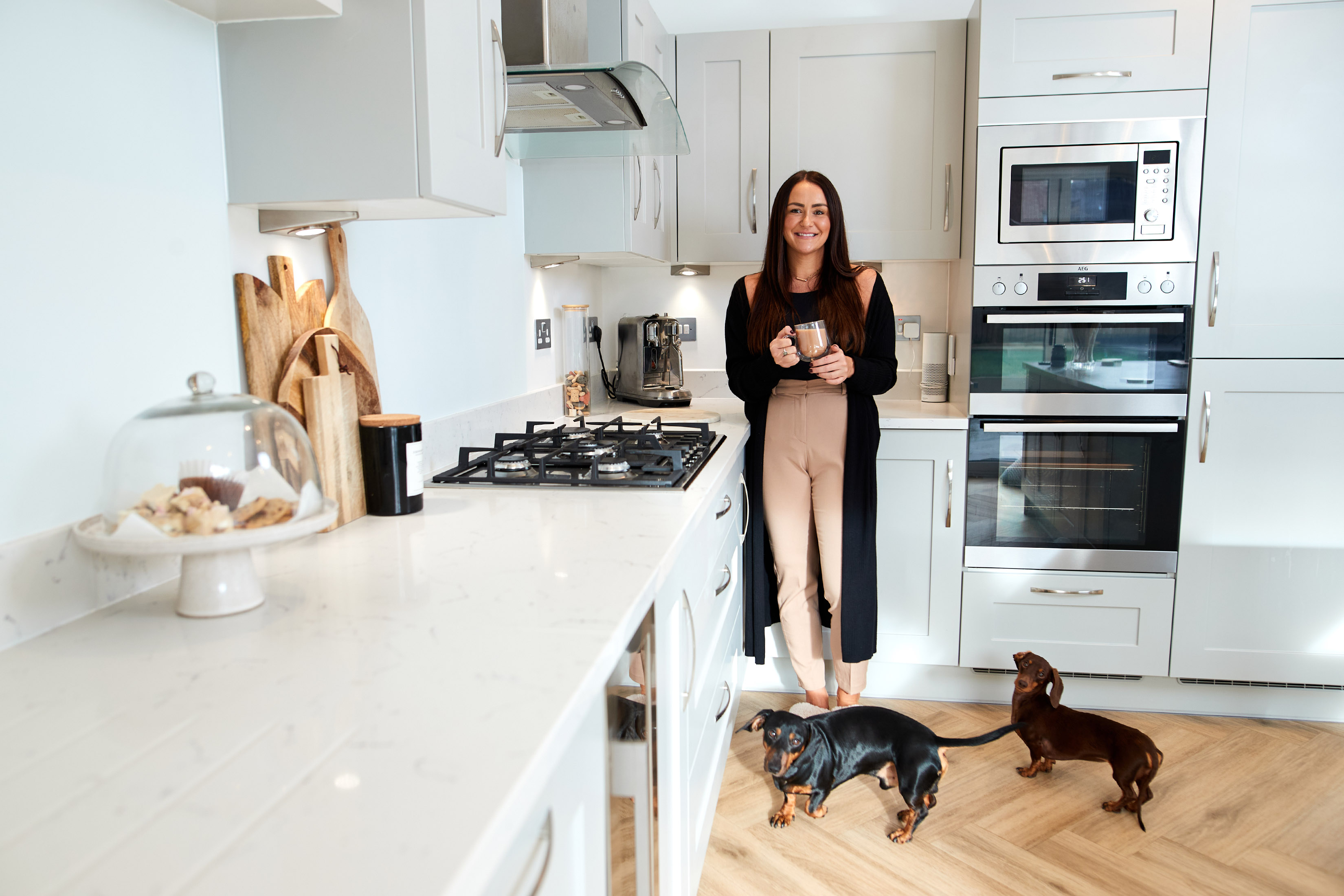 ---
And while Gemma, a diamond executive leader for Tropic Skincare, has a desk in the fourth bedroom upstairs which she intends to turn into an office for her business, she tends to work from her kitchen island or the painted oak dining table she's had custom-designed.
"It's a great working environment," says Gemma, although she adds: "The massive dining table will be great when I have people round for dinner parties. I do like interior design. I had the dining table hand-made after seeing a similar one which I loved. I had the legs sprayed black and the top a nude colour – I've got neutral tones throughout the house.
"I've had a log burner fitted and a log store built, I've had a media unit made for the living area and laid Amtico flooring down."
Over the summer, once restrictions eased, she enjoyed hosting family and friends for barbecues in the garden.
"I needed the perfect hosting house – and that's exactly what I've got," Gemma adds.
"There's still bits to do. I want to get heaters and build an outdoor kitchen – I'm lucky, this is one of the biggest plots!"
While she had thought three bedrooms would be more than enough, with four it means Gemma has the office, her main bedroom suite, a bedroom for Tillie – and her daughter also has her own playroom upstairs: "So she has her space when her friends come round!"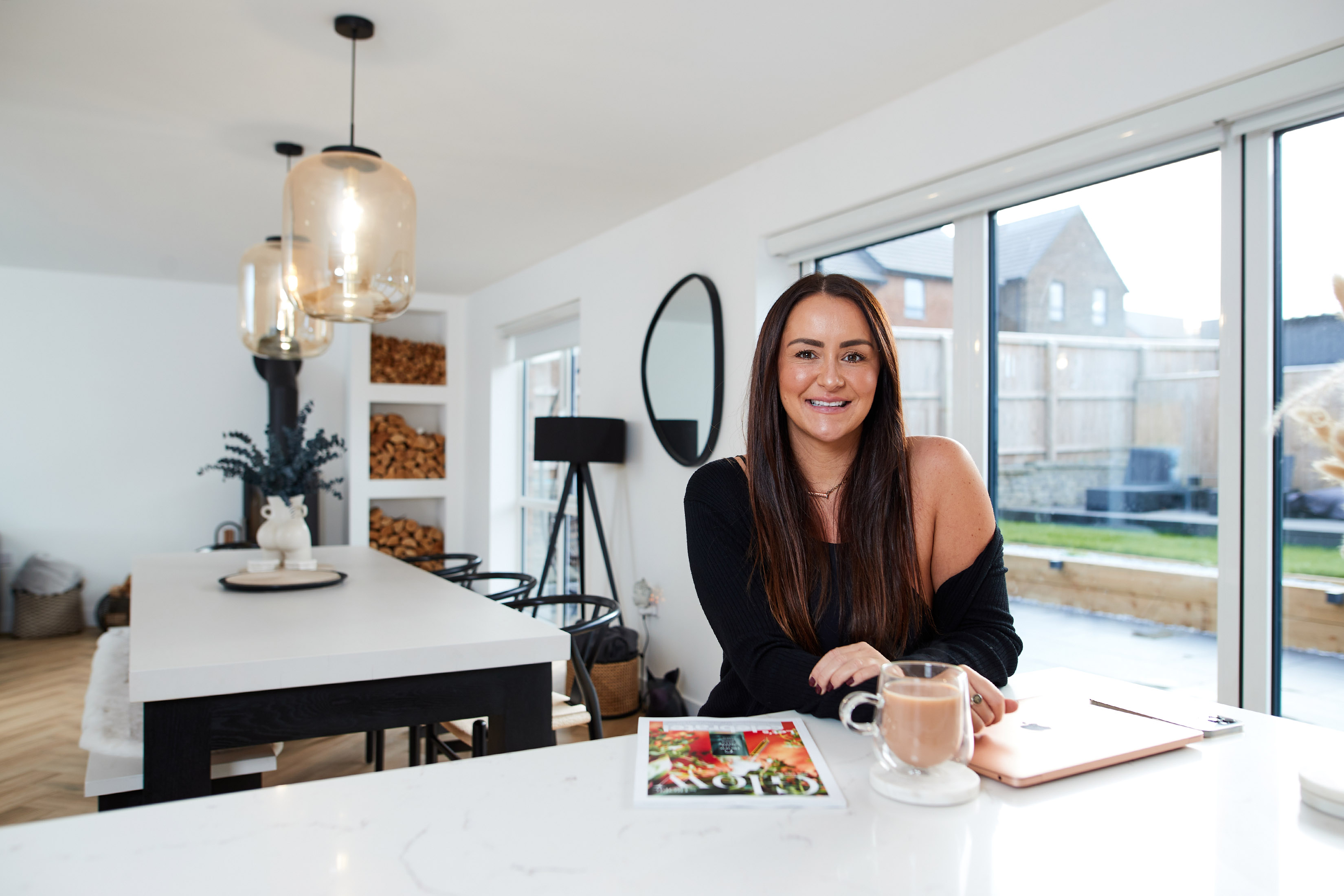 ---
Originally from Darwen, Gemma still gets excited talking about her new Lancashire home:
"We have made so many friends, and it's a great community where everyone looks out for each other. Tillie is constantly playing out and it feels safe – and we are right next to the green which, again, is perfect," she explains.
"Eventually I'd like to build my own house – and Kingswood has given me lots of inspiration – but this, for the foreseeable future, is home."
The lifestyle that the homes and the area affords for Gemma and Tillie is, she says, ideal: "Ever since we've moved here it's been amazing.
"As a single mum especially, to have the community and friends, that network of people you can speak to and rely on, means everything."
More than 140 new homeowners have so far moved into Green Hills and its barn and farmhouse-inspired homes, including those designed by HemingwayDesign, co-founded by Blackburn-raised Wayne Hemingway MBE.
Daniel Cato was named the North West regional winner in the "small builder" category of the NHBC's Pride in the Job Awards for his role in overseeing construction at Green Hills.
The Dovecote 4 show home at the development scooped five stars in the residential property category UK Property Awards. The property was also shortlisted in the Housebuilder Awards, while the development was a finalist in the Northern Design Awards and has just been revealed as one of the shortlisted schemes in the Insider North West Residential Property Awards.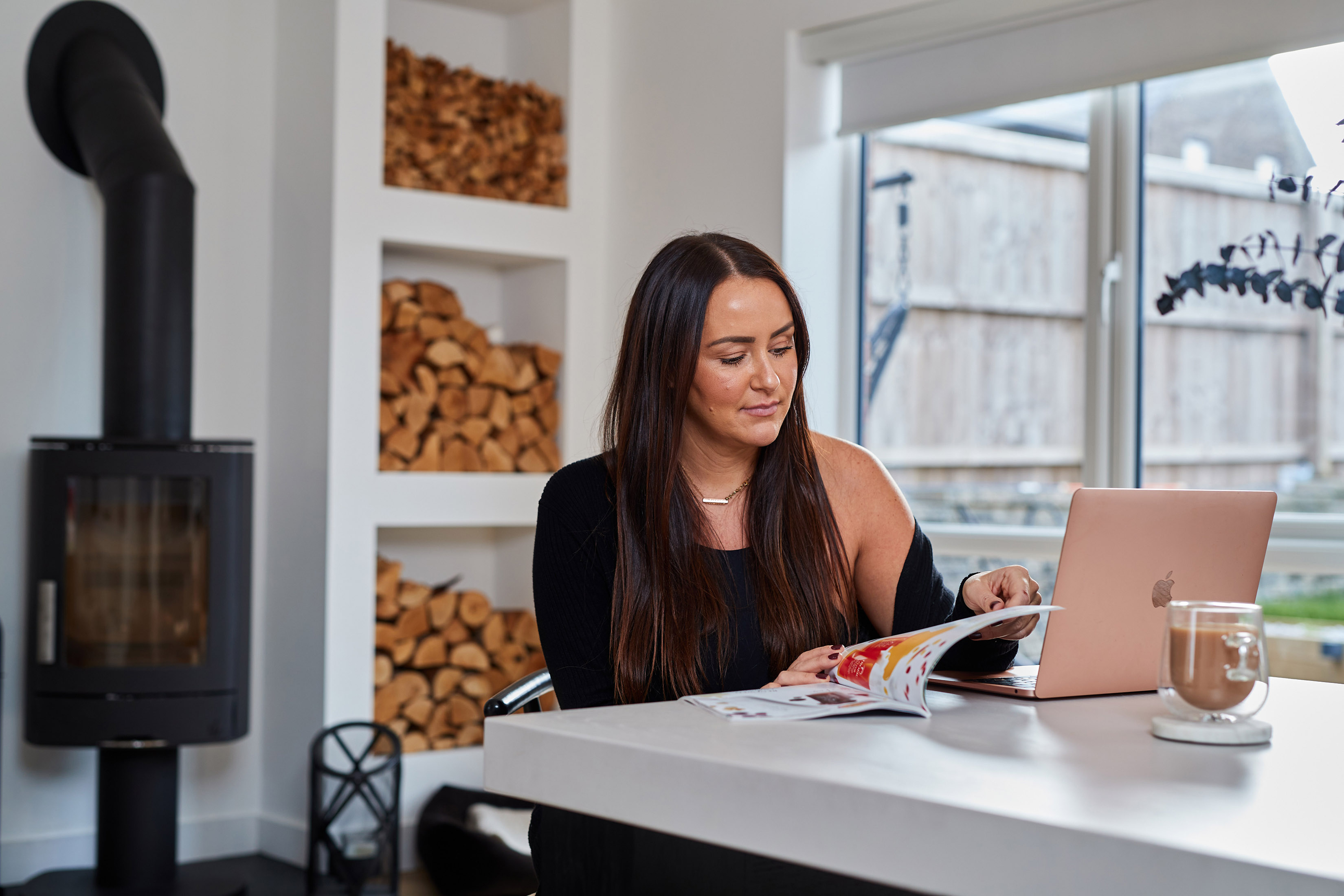 Show homes now available to reserve!
Feniscowles, Blackburn, BB2 5BX
A collection of Farmstead inspired homes overlooking village greens and stunning views of the Pennines.
Broken Stone Road, Feniscowles, Blackburn, BB2 5JP
A brand new collection of stunning homes at Green Hills which feature a classical and traditional finish.